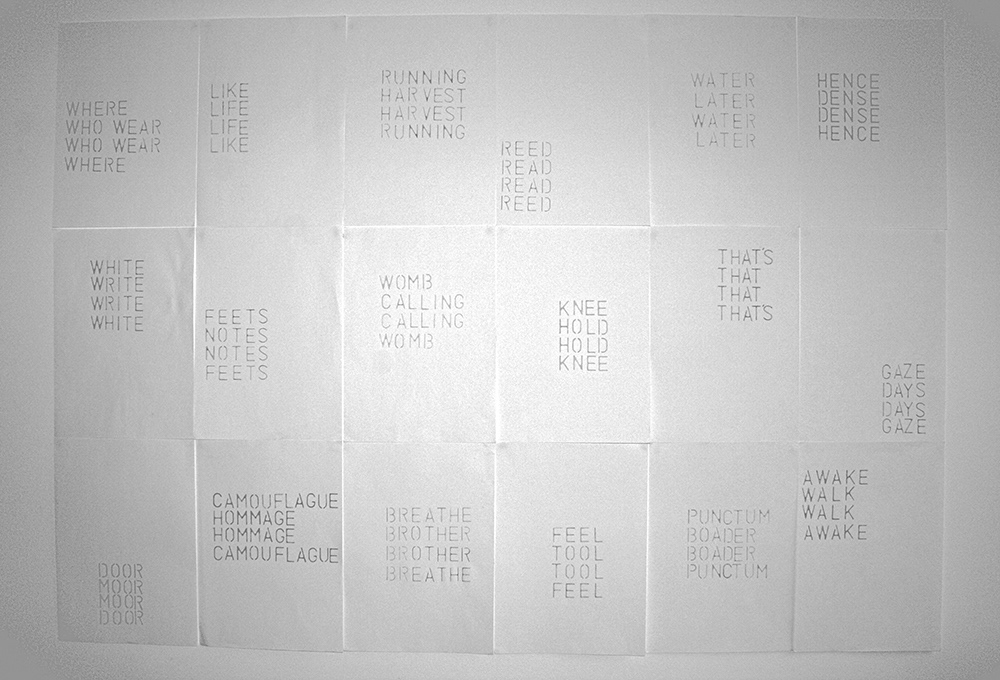 whitewritewritewhite,

 

2010 
29.7 x 21.0 cm (11 3/4 x 8 1/4 in)
I want to expand the posibilities of words, and reinterpret the differences. The new sound made from these differences create a totally new meaning, even through they share similar spelling or pronunciation. 
I used a letter stencil for the words on each piece of paper. The viewer reads out two words repeatedly, in so discovering sounds and meaning. On a screen or in print, the words appear flat. Once they were written in pencil, the take on a new dimension. The words were written on a regular piece of paper to show that humanity could be found in everyday objects. I put it on the wall to offer the choice to view the piece from up close or afar. Reading out the words will reframe the meaning, and bring together words that might not be the closest. 
Because the words written by pencils, their sensitivity showed more visually. Accordingly, put on the wall to have a distance which can avoid short-sighted view and also, to give either macro-perspective or micro-perspective. And besides, recite the words will re-frame as crosses ovee their original meanings. I think If the two things existed in a distance, they would feel more closer by new method.